Arizona Food Handlers Card
$7.95
How To Get Your
Food Handlers Card
Register
Complete Training
Immediately Print Certificate
Bring Certificate to Health Department*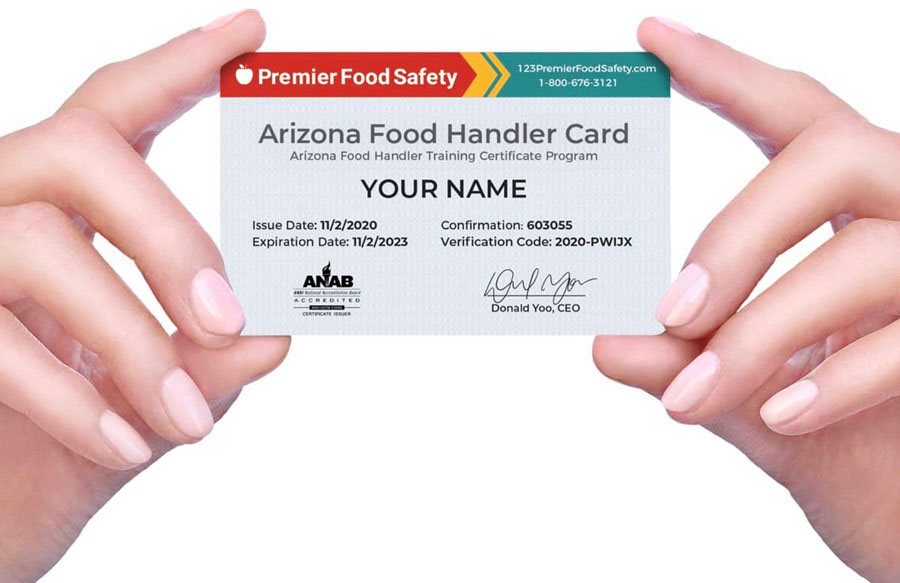 All together this training process was very helpful i enjoyed taking the pop quizzes :)
It was very quickly paced which I enjoyed and it was very informative.
I felt like this training did very good job in providing all the essential information.
I enjoyed how quick and understandable this course was. The interactive quizzes were nice and engaging.
The training was very good and easy to follow.
I enjoyed the training and gained a lot of knowledge about food safety!
It was great refresher thanks.
I've learned a lot on this training course.
I loved it and I learned stuff I didn't know before.
GREAT TRAINING. THANK YOU!
It was effective and easy to use.
I enjoyed the questions in-between to help keep your mind fresh about what was being taught.
I liked the course. It was very interesting. I liked that the people were cartoons it made it more interesting.
About the Online Training
Course Duration: 90 minutes
Number of exam attempts: Unlimited (after 2 failed attempts, the course must be viewed from the beginning)
Minimum passing score: 70%
Languages: English, Spanish, Chinese, and Korean
100% online and mobile friendly
Course features full text transcript and closed captioning
Arizona food handlers working in counties that require a Food Handler Card must complete their training from an ANAB-accredited provider
Training is mandatory in Maricopa, Coconino, Gila, Pinal, Yavapai, La Paz, Greenlee, Mohave and Yuma county
Our online food handler program is ANAB-accredited
Cards are valid for 3 years
*Some counties require proof of legal presence or the payment of an additional fees for the issuance of a county-specific card. Check with your local health department for additional requirements.
Passing Guarantee
Money Back Guarantee
Lowest Price Guarantee
FAQs
Is a Food Handlers Card required in Arizona?
Yes. A Food handler card is required for food workers in Coconino, Gila, Pinal, Yavapai, La Paz, Greenlee, Mohave, Yuma, and Maricopa county.
According to the HB 2436, food handlers in Arizona are required to obtain their training and certificate from an ANAB-accredited provider when Food Handler Training and Certification is required by the county.
Some counties will require you to bring proof of legal presence to the local health department in order to obtain a Food Handler Card. Please proof of legal presence for a list of documents accepted as valid. Please check with your local health department for Food Handler Card issuance fees.
How long is my food handler card valid for?
The food handler card issued by Premier Food Safety is valid for 3 years.
However, Arizona Food Handler Cards must be renewed as required by each county. The renewal period for the Food Handler Card varies from county to county, so please check with your local authority for renewal requirements. Generally, Food Handler Cards are valid for 2-3 years.
When do I get my Arizona Food Handler Card and Certificate of Completion?
You will be able to download and print a certificate of completion and Arizona Food Handlers Card as soon as you complete the online training and pass the final exam with a minimum score of 70%. Please note that your local health department may require you to register your certificate of completion to obtain an official Food Handler Card issued by the county. For more information, please contact your local health department.
How can I renew an Arizona Food Handler Card that has already expired?
If your card has expired, you will need to take the training and test again to obtain a new food handler card.
I have a Food Handler Card issued by a specific county. If I start working for an establishment located in a different county, will it be considered a valid Food Handler Card?
Yes. As long as your Food Handler Certificate is issued by an ANAB-accredited provider and it has not expired, it will be accepted as valid by any other local health department, including Maricopa County, Mohave County, Coconino County, Pima County, Yuma County, Pinal County, and Yuma County.
What if I start working at a different establishment? Is my Arizona Food Handler Card transferrable to the new employer?
Yes. As long as the Food Handler Card has not expired, you may continue to use it while working for a different restaurant.
I took the training offered by my county. Do I need to complete an ANAB-accredited program to get a new Food Handler Card?
No. If you took a training created by the county or approved by the county before July 1st, 2014, your Food Handler Card will be considered valid.