Illinois Food Handlers Card
$7.95
How To Get Your
Food Handlers Card
Register
Complete Training
Instantly Print Certificate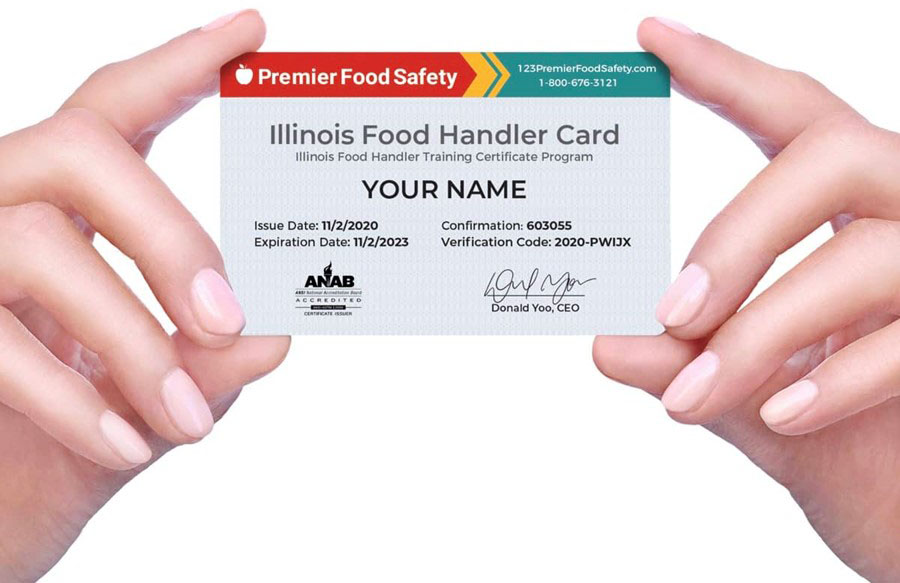 The training was detailed and descriptive.
I enjoyed learning things about how to properly handling food because I realized that I make some mistakes that I can now fix.
The training was helpful.
The training was easy to follow and very informative.
I enjoyed the training animations, it made the training a lot more engaging.
I enjoyed seeing animated videos that made me to concentrate more and gain knowledge easily.
I enjoyed that I'm able to move at my own pace with the guides and the photos are fun.
I feel like these videos are very helpful.
What I enjoyed about this training is that it was simple to follow through and fast and effiecent.
I enjoyed hearing examples of everything.
It is very helpful that the course can be done in multiple sittings.
Everything was great, love the price.
Kept me engaged while learning!
Training was very detailed.
About the Online Training
Course Duration: 90 minutes
Number of exam attempts: Unlimited (after 2 failed attempts, the course must be viewed from the beginning)
Languages: English, Spanish, Korean, and Chinese
Minimum passing score: 70%
100% online and mobile friendly
Course features full text transcript and closed captioning
Food Handlers in Illinois are required to complete a food handler training program from an ANAB-accredited provider
Training must be obtained within 30 days from date of hire
Food Handlers cards are valid for 3 years
Online training is ANAB-Accredited and valid throughout the State of Illinois
Passing Guarantee
Money Back Guarantee
Lowest Price Guarantee
FAQs
The Illinois Food Handling Regulation Enforcement Act (410 ILCS 625) amended by SB1495, went into effect on July 1, 2014 and requires all food handlers in Illinois to receive training in basic food safety concepts from an ANAB-Accredited provider.
When does the Illinois food handler training need to be completed?
Food Handlers must complete a food safety training within 30 days of beginning of employment.
How long is the training valid for?
Food Handlers employed by restaurants must renew their training every 3 years. Food Handlers working for non-restaurants, however, are not subject to this requirement.
What type of establishment is considered a restaurant?
The Illinois Food Code defines restaurants as "any business primarily engaged in the sale of ready-to-eat food for consumption", where "primarily engaged" means having sales of ready-to-eat-food for immediate consumption amounting to at least 51% of the total sales, excluding the sale of liquor.
What is considered a non-restaurant?
Nursing homes, licensed day care facilities, hospitals, schools, long-term care facilities and retail food stores are considered non-restaurant establishments.
What is the difference between food handlers working for restaurants and food handlers working for non-restaurants?
Food handlers working for restaurants are required to receive training from an ANAB-Accredited provider, such as Premier Food Safety. Food handlers working for non-restaurants are not required to get it from an ANAB-Accredited provider, but must still be able to provide proof of training upon request by the health department.
What type of Illinois Food Handler training is available and valid for food handlers working in restaurants?
Online, computer, classroom, live trainings, remote trainers, and certified food service sanitation managers are all valid training options. Food handlers working in restaurants must receive their food handler training from a program approved by the American National Standards Institute (ANSI) National Accreditation Board (ANAB). Training offered by approved local health departments, or businesses administering their own internal programs are also considered valid training options.
How do I register for online training?
Purchase a training license through the website or by calling us
Complete the training and pass the 40-question test
Download and print your Food Handlers Card and certificate of completion
What is the passing score on the final exam?
Food Handlers may print a certificate of completion upon receiving a score of at least 70% on the final exam.
Do I have to complete the training all at once?
No, the training is self-paced. You can start and review a few chapters, log out of your account, and resume the training at a different time. All your progress will be saved.
My employer provides their own food safety training program? Am I still required to complete a new training if I already completed this program?
Establishments providing internal training programs approved in other states will be approved in Illinois. However, please keep in mind that food handler training is not transferable between employers in this case. This means that if you start working for a different establishment later on, you will be required to take a new food handler training.
What type of training is approved for Food Handlers working for non-restaurant establishments in Illinois?
Any food handler training program registered and approved by the Illinois Health Department will be considered valid for food handlers at non-restaurants.
Will my Illinois Food Handlers Training still be valid if I change jobs? Do I need to complete a new training?
Restaurants - If you work for an establishment that falls under the restaurant category and receive your training from an ANAB-Accredited program, your training will still be valid if you start working for a different restaurant. However, if you are a food handler who initially received training from a restaurant offering an internal program, which was neither ANAB-accredited nor offered by a certified local health department, you will have to take the training again.
Non-Restaurants - If you work for a non-restaurant establishment, then your training will not be transferable between employers. However, if you have previously received and currently hold a valid food handler accreditation issued by an ANAB-Accredited training provider, you will not need to take the training again.